In Hawaii, Aloha Friday is the day that we take it easy and look forward to the weekend. So on Fridays let's take it easy on posting, too. Ask a simple question…nothing that requires a lengthy response. It's a great way to make new blogging friends!
I thought once the holidays were done, things would calm down a bit, but I was oh so wrong.  So I'll get right to my question for this week:
Are you a pet person?  And if so, what kind of pet(s) do you have?
I'm definitely a pet person.  We always had dogs growing up – my dad was anti-cats because my grandpa had a cat that liked to shred the drapes.  Literally.  When I moved into my first apartment, since dogs weren't allowed, I had a cat.  One that didn't shred drapes.  Once I got an actual house, I got a dog – who was the best dog ever, and he and the cat were best friends.  He lived 13 years and I still miss him.
Now we have two dogs, a cat, a dove, goldfish and a King snake (the snake is the hubby's – I have nothing to do with it).  Earlier this week there was a little kitten meowing on our back porch – it was obviously hungry, so hubby put some canned cat food out for the poor thing.  Then we felt bad about it being so cold outside (and apparently the annoying neighbor kid was asking hubby if he had a trap he could use, he was trying to catch a kitten…the red flags went up, we figured he was the type of kid that would probably torture the poor kitten if he did catch him).  So what did we do?  Lured the kitten into the house.
Once the poor little thing isn't hiding from us scary two-leggers, I'll take pictures.  Meanwhile I'm hoping he/she/it doesn't keep hiding under the dining room table and not making it to the litter box upstairs.  Princess Nagger is hoping that it's a boy – she wants to name it Link, since she named the other cat Zelda.  The Legend of Zelda lives on.

What about you?  Are you a dog or cat person – or neither?  What, if any, pets do you have?
.
Follow Friday 40 and Over
.
There are a lot of fabulous bloggers who are 40, so I'm participating in Follow Friday 40 and Over – please be sure to leave a link to your blog so I can come check out your site and follow you, too!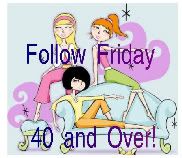 Fun Follow Friday
.
I'm also playing along with Fun Follow Friday hosted by Simply Stacie and My Wee View. The goal of this hop is to get new Google Friend Connect Followers for your blog and be introduced to new blogs to follow. Be sure to leave a link when you follow so I can follow you back! Have a great weekend!