Happy Aloha Friday!
In Hawaii, Aloha Friday is the day that we take it easy and look forward to the weekend. So on Fridays let's take it easy on posting, too. Ask a simple question…nothing that requires a lengthy response. It's a great way to make new blogging friends!
.
Princess Nagger inherited 'soft' teeth from me (lucky girl) which means she has to be extra diligent in brushing her teeth.  Only she hasn't been.  Or at least she hadn't been until Santa gave her a battery-operated Bakugan toothbrush as a stocking stuffer a couple of Christmases ago, and has been giving her a new cool one every year since.  I had gotten her one of those early on, but she was afraid of it for some reason.  Or it was a boring one, because it wasn't cool like Bakugan.  It took the fat man in a red suit to get her interested and not be afraid of the buzzing and vibrating those things do.
Ever since she started using a 'fun' toothbrush, she's been much more diligent in brushing all her teeth thoroughly vs. the halfhearted attempt she used to do with a regular old toothbrush.  Which means her subsequent dental checkups have been much more trauma-free, since she hasn't been getting the bad news of new cavities.  I myself use a rechargeable toothbrush,  and after I started using one of those, I haven't had a cavity in years.  My question for this week is:
Do you use a manual or electric toothbrush?
Have a great weekend!  Be sure to brush and floss!
.
Follow Friday 40 and Over
.
There are a lot of fabulous bloggers who are 40, so I'm participating in Follow Friday 40 and Over – please be sure to leave a link to your blog so I can come check out your site and follow you, too!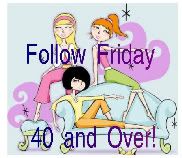 Fun Follow Friday
.
I'm also playing along with Fun Follow Friday hosted by Simply Stacie and My Wee View. The goal of this hop is to get new Google Friend Connect Followers for your blog and be introduced to new blogs to follow. Be sure to leave a link when you follow so I can follow you back! Have a great weekend!