Happy Aloha Friday!
In Hawaii, Aloha Friday is the day that we take it easy and look forward to the weekend. So on Fridays let's take it easy on posting, too. Ask a simple question…nothing that requires a lengthy response. It's a great way to make new blogging friends!
.
Princess Nagger is a rebel.  She's only in second grade, but she got sent to the Principal's office for the first time ever earlier this week.  And here you thought she was such a little angel.  So of course my question for this week is:
Have you or your kids ever been in detention?
Apparently PN has been spoiled by being allowed in the past to take more than one item from the treasure basket at the dentist office – I'm sure it's because the ladies in the office felt bad for the traumatic event(s), and thought letting her take 'extras' would make her (and them) feel better.  When her gifted teacher allowed her to get a treasure from the treasure chest in her classroom this week, instead of taking one item, Princess Nagger took three.  She got busted by her teacher and was told it was stealing, and sent immediately to the Principal's office.
To make matters worse, when the Assistant Principal was grilling her asked her a question, she gave a sarcastic answer – which landed her in the 'study room' for the next three days in lieu of having her lunch recess (otherwise known as 'detention').  She has a tendency to get sarcastic when she's put on the spot or embarrassed – something we've been working on at home, because the sarcastic attitude recently started and needs to be nipped in the bud before she reaches the tween/teen years or I'll be turning into a screaming banshee.
Princess Nagger has learned that soap really doesn't taste as good as it smells.

I never spent any time in detention – but I wasn't Miss Perfect, either.   What about you?  Did you or your kids spend any time cooling your heels in the 'study room' or detention?  How do you handle when your kids talk back or respond to you or another adult figure sarcastically?

.
Follow Friday 40 and Over
.
There are a lot of fabulous bloggers who are 40, so I'm participating in Follow Friday 40 and Over – please be sure to leave a link to your blog so I can come check out your site and follow you, too!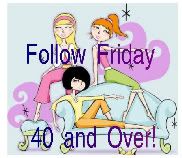 Fun Follow Friday
.
I'm also playing along with Fun Follow Friday hosted by Simply Stacie and My Wee View. The goal of this hop is to get new Google Friend Connect Followers for your blog and be introduced to new blogs to follow. Be sure to leave a link when you follow so I can follow you back! Have a great weekend!