Happy Aloha Friday!
.
In Hawaii, Aloha Friday is the day that we take it easy and look forward to the weekend. So on Fridays let's take it easy on posting, too. Ask a simple question…nothing that requires a lengthy response. It's a great way to make new blogging friends!
Can you believe it?  Only one week until Christmas!  It's crunch-time all of us, so I'll get right to my question for this week:
Do you like wrapping presents?
I love wrapping presents, especially this time of year.  I try to make them all fancy with ribbons and bows, but when I'm shipping them to friends and family, tend to leave those off since they get crushed when you're cramming stuff in a box.  I also leave them off Princess Nagger's gifts, because I remember hating ribbons and bows hindering the process of tearing into the wrapping paper as a kid.  Although I do put bows on, because she'll ask why I didn't put them on if I don't.

When I'm wrapping Christmas gifts, I love having Christmas movies playing in the background – if I see that same movie at another time, certain parts of that movie remind me what gift I was wrapping and who it was for.  So then I connect those movie moments to whichever friend or family member I happened to be wrapping a gift for.  I know, I'm such a sap.
If I'm able to give a gift in person, I do like to go all Martha Stewart on said gift and make it all pretty with ribbons and bows.  Rarely do I use gift bags – except to carry those pretty packages in to their recipient.  Redundant, sure, but that's just me. My brother always got a lot of kidding when he'd show up to a birthday or Christmas celebration with our family and bring the presents wrapped in the shopping bag of the store he got the item.  We always teased him about his 'fancy' wrapping.

What about you?  Do you like wrapping presents?

.
.
There are a lot of fabulous bloggers who are 40, so I'm participating in Follow Friday 40 and Over – please be sure to leave a link to your blog so I can come check out your site and follow you, too!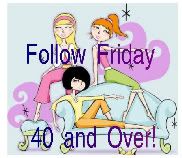 .
I'm also playing along with Fun Follow Friday hosted by Simply Stacie and My Wee View. The goal of this hop is to get new Google Friend Connect Followers for your blog and be introduced to new blogs to follow. Be sure to leave a link when you follow so I can follow you back! Have a great weekend!