My laptop finally did bite the dust on Tuesday – so I've been going through some major withdrawals from the internet these past few days.
My new laptop finally showed up and I love it!  I got such a great deal (thank you Cyber Monday!!) and as I'm loading all my software on it (and trying to remember all my log-ins everywhere…note to self: maybe keep passwords somewhere safe when you have your browser 'remember' them for you…then you won't have to go through hoops to log into things when you forget what the browser is remembering for you.) I'm marveling at how much faster this new laptop is compared to my sluggish old one.   Now I can play online again – and since it's Friday…Aloha!
Happy Aloha Friday!
.
In Hawaii, Aloha Friday is the day that we take it easy and look forward to the weekend. So on Fridays let's take it easy on posting, too. Ask a simple question…nothing that requires a lengthy response. It's a great way to make new blogging friends!
My question for you this week is:
Is your Christmas tree a real one or a fake one?
I've always had a real tree – even when I was single I still put up a tree in my apartment, and it always had to be real.  My favorite is the Noble Fir – they can look a bit scraggly, but they've  sure got character.   Once I moved away from the West Coast it seemed that buying a real tree became cost-prohibitive, so I bought a pre-lit fake Christmas tree (which cut down on the scratched arm syndrome from stringing lights).  When we moved into this house we had to get a ginormous 9-foot tree since our ceilings are 10+ feet, and the 6-foot one we had before looked funny in the living room.
The last couple of years I've had some pretty comical issues with that tree in my Christmas Tree Wrestling of '08, Part 1 and Part 2; and last year most of the lights burned out, which defeated the purpose of having a pre-lit tree to begin with.  By the time I took the tree down last year, all the lights were completely burned out.  So now I have a dilemma – do I buy another pre-lit tree now so I can get a tree up and decorated, or should I get a real tree for this year so Princess Nagger can have that experience, or do I just put up the tree we already have and wait until the end of the season when the fake trees go on sale to get a new one?
What do you think?  Are you a Real Tree fanatic, or a Fake Tree fanatic?
.
Follow Friday 40 and Over
.
There are a lot of fabulous bloggers who are 40, so I'm participating in Follow Friday 40 and Over – please be sure to leave a link to your blog so I can come check out your site and follow you, too!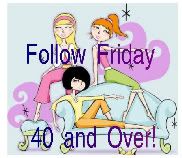 Fun Follow Friday
.
I'm also playing along with Fun Follow Friday hosted by Simply Stacie and My Wee View. The goal of this hop is to get new Google Friend Connect Followers for your blog and be introduced to new blogs to follow. Be sure to leave a link when you follow so I can follow you back! Have a great weekend!