Thank you everyone for your Birthday wishes yesterday!  I had a nice relaxing day, spent more time on the phone  than I have in a month with family birthday wishes, did a little shopping (more on that later), and hubby brought home take-out from our favorite Italian place nearby so I wouldn't have to cook.
The birthday celebration continues tonight with dinner and a movie (Princess Nagger picked the movie – the new Chronicles of Narnia).  It's been the best Birthday so far – not only by hubby going all out with some amazing birthday gifts, but largely in part by all you wonderful readers and Facebook friends – I was overwhelmed by the outpouring of good wishes on my Facebook page and post yesterday.  You all ROCK!
Happy Aloha Friday!
.
In Hawaii, Aloha Friday is the day that we take it easy and look forward to the weekend. So on Fridays let's take it easy on posting, too. Ask a simple question…nothing that requires a lengthy response. It's a great way to make new blogging friends!
It's a busy time of year for all of us, so I'll get right to my question for this week:
Do you do most of your Christmas shopping online or at a physical retail store?
I split my purchases between the two – I do a lot of online shopping this time of year, because I do a lot of research and 'window shop' online to figure out what to get, and if I need to go to a store to buy something, where to go.  And it's a great way to find out who has the best price.  I definitely do a lot of price comparison shopping online, and if there's free shipping, it's nice having things delivered to my door.
What about you?  Are you an avid online shopper, or do you prefer shopping at the stores for that 'hands-on' experience?

Follow Friday 40 and Over
.
There are a lot of fabulous bloggers who are 40, so I'm participating in Follow Friday 40 and Over – please be sure to leave a link to your blog so I can come check out your site and follow you, too!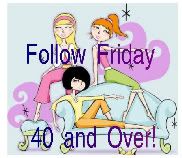 .
I'm also playing along with Fun Follow Friday hosted by Simply Stacie and My Wee View. The goal of this hop is to get new Google Friend Connect Followers for your blog and be introduced to new blogs to follow. Be sure to leave a link when you follow so I can follow you back! Have a great weekend!