Happy Aloha Friday
.
(and Happy New Year)!
In Hawaii, Aloha Friday is the day that we take it easy and look forward to the weekend. So on Fridays let's take it easy on posting, too. Ask a simple question…nothing that requires a lengthy response. It's a great way to make new blogging friends!
Happy New Year('s Eve)! It's hard to fathom that this year is done – did it seem to fly by super fast to anyone else?  My question for this week is:
Do you (or will you) be making any New Year Resolutions?
I used to be all into the resolution making, determined to keep those resolutions no matter what.  Now, not so much.  Mostly because I always set the bar too high for myself, then felt like a failure when I didn't accomplish all of the resolutions made.  So now I'm not going to set myself up for failure – that's no way to start a new year!
Instead, I have random mental 'resolutions' in my head – if they come to fruition, score!
What about you?  Do you make New Year Resolutions for yourself, and how does that work out for you?  Or are you going to wing it in the New Year like I am?
Wishing you a Happy and Safe New Year!  Here's to an awesome 2011! *clink*
.
Follow Friday 40 and Over
.
There are a lot of fabulous bloggers who are 40, so I'm participating in Follow Friday 40 and Over – please be sure to leave a link to your blog so I can come check out your site and follow you, too!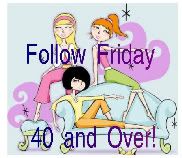 Fun Follow Friday
.
I'm also playing along with Fun Follow Friday hosted by Simply Stacie and My Wee View. The goal of this hop is to get new Google Friend Connect Followers for your blog and be introduced to new blogs to follow. Be sure to leave a link when you follow so I can follow you back! Have a great weekend!