Happy Aloha Friday
.
(and Merry Christmas Eve)!
In Hawaii, Aloha Friday is the day that we take it easy and look forward to the weekend. So on Fridays let's take it easy on posting, too. Ask a simple question…nothing that requires a lengthy response. It's a great way to make new blogging friends!
Merry Christmas Eve!  I'm sure you are all scrambling with last minute stuff for tomorrow (at least please tell me I'm not alone!) so I'll get right to my question for this week:
What's on the menu for Christmas Dinner?
I used to cook a turkey both for Thanksgiving as well as Christmas, because that's what my mom always did. Then my hubby pointed out that since both holidays are less than a month apart, maybe I should think about cooking something else for our Holiday Feast at Christmas. Obviously he's not as big of a fan of turkey leftovers for days like I am.
Both he and Princess Nagger love ham, but I've never been very fond of it. Sure, I tend to be a ham, but eat it? Not so much. Especially when we've had it at other people's houses or eating out and it's either been too salty or too dried out for my liking.
Over the years I've experimented with different types of ham and many different recipes. Finally, a couple of years ago I finally found the combination that worked so well, even I love this ham, and Princess Nagger will eat it until the cows come home – or in this case, the piggies.
So this year, once again, it'll be a yummy ham cooked in my ginormous slow cooker – makes it easier to play with new toys and enjoy the day rather than slaving away in the kitchen.  Though I do love to cook, so spending time in the kitchen for me is actually therapeutic.  Mostly.  Of course I'll do the 'usual' side dishes of sweet potatoes, mashed potatoes, apple stuffing and cranberry sauce with some sort of pie for dessert (haven't decided on apple cranberry or pumpkin yet…might have to make both).
Growing up we always had our Christmas Feast on Christmas Eve – a Swedish Tradition.  Since it varies on whether or not December 24th is a work day (formerly for me, currently for hubby), I've changed the tradition and make the feast on Christmas Day instead.
If you celebrate Christmas, what kind of feast do you enjoy?  And if you celebrate other holidays this time of year, what kinds of traditional foods do you get to toss your diet out the window for?
Have a Very Merry Christmas!  Don't forget to leave cookies and milk for Santa tonight, and don't forget about leaving out Reindeer Food for the reindeer – they get hungry, too!
In case you want to see the easy Ham recipe, you can click on the image for the PDF printable version, or click here to see the recipe to decide if you want to download it:
.
Follow Friday 40 and Over
.
There are a lot of fabulous bloggers who are 40, so I'm participating in Follow Friday 40 and Over – please be sure to leave a link to your blog so I can come check out your site and follow you, too!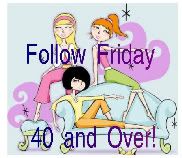 Fun Follow Friday
.
I'm also playing along with Fun Follow Friday hosted by Simply Stacie and My Wee View. The goal of this hop is to get new Google Friend Connect Followers for your blog and be introduced to new blogs to follow. Be sure to leave a link when you follow so I can follow you back! Have a great weekend!