Halloween was quite the adventure this year.  Since we live out in the boondocks on a long stretch of a fairly busy road, no one does trick'or'treat along our road – it's not safe.  We discovered a few years ago that everyone along our road simply drives to a 'regular' suburban-ish neighborhood and let the kids collect tons of loot.  This year we thought we'd do something different – since we had a lot of fun at Crumland Farms for their Corn Festival, we thought we'd check out their Halloween bash this year.  Sure, it's an hour drive, but we were feeling adventurous.

We were a little disappointed that it wasn't as big a deal as advertised – there was absolutely nothing going on, and very few vendors set up for the trick'or'treat portion.  But we still had fun, especially since it was a gorgeous sunny day (albeit cold – good thing Princess Nagger chose a warm costume for this year!).  When we arrived at the farm, we decided we'd enjoy their yummy cheeseburgers (hotdog for the Princess Nagger) since we hadn't had any lunch.  As we ate, we watched as pumpkins were taken high up on a cherry picker and dropped to smash into smithereens.  There was supposed to be a pumpkin eating dinosaur, but they didn't have it working so PN was slightly disappointed about that.
Before the trick'or'treating started, Princess Nagger wanted to head over to the big slide – on the way, we stopped to check out the goats:
We literally got to see them up close and personal:
Then one of them decided to put on a little show for us – they have these walkways above our heads that the goats walk on, and a pulley system to send them treats when they arrive at various platforms:
Princess Nagger was loving every minute of it:
Off to the giant slide:
I asked PN if she was going to fly up to the top – she thought I was nuts:
She of course wanted to go again, and I decided to get more creative with the next shots:
I was a little too quick on the shutter for the last picture, but it turned out to be a funny one:
Then it was off to the pumpkin patch via a hay-less hay ride.  That's where this picture from yesterday was from:
Princess Nagger didn't mind there was no hay on the hay ride:
We arrived at what was left of the pumpkin patch – it was cool to see actual blue pumpkins:
We weren't quite sure what we were supposed to do when the driver let us out, so we wandered aimlessly then each picked out a variant blue pumpkin to take back with us.  We headed back to the main part of the farm, enjoying the scenery:
Since it was still early (only about 5:00 by this time), Princess Nagger still wanted to go somewhere to do some actual trick'or'treating – there were only a few vendors set up at the farm for that, along with Mazey the Cow:
We still had that hour drive ahead of us, but the timing worked out well since trick'or'treating in our neck of the woods didn't start until 6:00 anyway.  Plenty of time to head to a random neighborhood for Princess Nagger to score some good loot.
And so we did.
While we enjoyed the Corn Festival at the farm immensely and will be returning next year for that, we'll be skipping the Halloween Bash and sticking close to home so Princess Nagger can simply do what she loves best – trick'or'treat.

Entrance Fee so Princess Nagger could slide on the slide:  $15.00
2 Cheeseburgers, Fries, 2 Sodas and a hot dog:  $19.00
3 Blue Pumpkins:  $9.00
Princess Nagger's smile and overall enjoyment:  Priceless
This Spin Cycle was brought to you in part by Jen, who I bet had tons of fun as Sprite's Keeper on Halloween.  Stop by and check out the other Spinners and see what kind of Halloween fun they all had, too!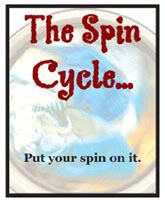 .
Wordful Wednesday, hosted by Parenting by Dummies – head on over there to check out all the fun wordy posts!