Happy Aloha Friday!
.
In Hawaii, Aloha Friday is the day that we take it easy and look forward to the weekend. So on Fridays let's take it easy on posting, too. Ask a simple question…nothing that requires a lengthy response. It's a great way to make new blogging friends!
Let's get right to it!  My question for you this week is:
Prescription or over-the-counter vitamins?
Ever since Princess Nagger was born, we've always opted to get the prescription vitamins her pediatrician recommended (you know the kind – with extra fluoride).  At first it was liquid vitamin drops, then those little dissolvable tablets that went under her tongue, and eventually morphed into fruity chewable vitamins.  For some reason those that are they changed the formula, changing all the multiple flavors to just one – grape.  That made Princess Nagger happy, since they were her favorite.
But they recently changed them again…and this time, not so great.  To me they taste like the straight-up chewable vitamin C – you know the kind, the 500mg you chew when you have a cold or are catching one to stave it off.  They're nasty tasting.  I noticed PN making a face when I gave her one of her new prescription vitamins, so I had to try one myself.   Blech. Sour bitter taste that's worse than sucking on a lemon.  Even I wouldn't want to have to chew those on a daily basis.
So we've rejected the prescription mode and gone to 'normal' mode, as in the over-the-counter kind.  She's quite happy with the gummy vitamins – I'm sure her pediatrician will have an opinion about the 'over-the-counter' kind when we go for her annual checkup. I think I'll take the prescription ones with me and make him try them.  I think that's only fair.
How about you?  Do you or did you follow the pediatrician's suggestion/advice and go the route of prescription vitamins for your kids, or did you go the fun way – over-the-counter gummy bears or my favorite as a kids, Flintstone's vitamins?
.
Follow Friday 40 and Over
.
40 is the new 20, isn't it?  I'm participating in Follow Friday 40 and Over – please be sure to leave a link to your blog so I can come check out your site and follow you, too!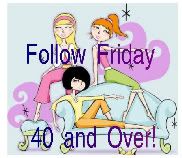 Fun Follow Friday
.
I'm also playing along with Fun Follow Friday hosted by Simply Stacie and My Wee View.  The goal of this hop is to get new Google Friend Connect Followers for your blog and be introduced to new blogs to follow.  Be sure to leave a link when you follow so I can follow you back!  Have a great weekend!