Happy Aloha Friday!
.
In Hawaii, Aloha Friday is the day that we take it easy and look forward to the weekend. So on Fridays let's take it easy on posting, too. Ask a simple question…nothing that requires a lengthy response. It's a great way to make new blogging friends!
Today Princess Nagger is celebrating her birthday with her class at school.  Sure, her birthday isn't until Monday, but she shares the same birth date with another classmate, and since PN is higher on the Alphabet, she has her celebration today, the other classmate will have hers on Monday.  My question for you this week is:
Did you or do you send in cupcakes and goody bags for the class (either or both)?
I've been doing both.  Since I didn't have the luxury of procrastinating taking care of putting together goody bags over the weekend, I had to make sure they were all done and ready earlier this week, and baked cupcakes yesterday for Princess Nagger to decorate last night.  She wanted the theme to be dinosaurs (would we expect anything else?) so I had my work cut out for me to find cool dino stuff that wasn't, in her terminology, 'lame'.  I think I succeeded, she loved the 'Dino Treat' bags I found, and was happy with the 'loot' I filled them with.
I even found dinosaur shaped cupcake/cake sprinkles – she was thrilled, and had a great time decorating the cupcakes.  And eating leftover frosting and sprinkles.  (I had to hide the rest of the sprinkles, or she would have eaten them all!)  Of course it's going to be hard for her to transport 24 cupcakes (even in a cupcake carrier) and 24 goody bags to school on the bus, so I'll have to drop one or the other or both off at the school first thing this morning to make sure they're there in plenty of time for whenever they'll do the actual celebration.
Since I'm one of those parents that prefer the goody bag doesn't have annoying toys (those blow outs or any kind of whistles annoy me to no end), and prefer there not to be an excessive amount of sugary goodness (after all, the cupcakes are sugary enough), I loaded the goody bags with fun trinkets and toys – dinosaur ones, of course.  I figure parents would appreciate the dinosaur pencils, dinosaur eggs (they're plastic and have a dinosaur and info sheet inside), a variety of little plastic dinosaur toys, erasers, magnifiers, stampers, tattoos, and even dinosaur rubber duckies.  I did, however, add little packets of bone candy – figured one small packet would make everyone happy.  Although I sort of went overboard on the excessive amounts of little plastic dinosaurs – those might get to be annoying if left scattered on the floor.

How about you?  Did you or do you put together goody bags for the birthday child's class?  Do you do the whole cake or cupcake thing?  Or does your school even allow that sort of thing?  I heard that many schools are banning those birthday celebrations because of too much sugar, and the childhood obesity conundrum.
.
Follow Friday 40 and Over
.
There are a lot of fabulous bloggers who are 40, so  I'm participating in Follow Friday 40 and Over – please be sure to leave a link to your blog so I can come check out your site and follow you, too!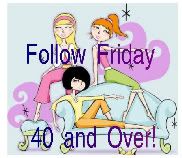 Fun Follow Friday
.
I'm also playing along with Fun Follow Friday hosted by Simply Stacie and My Wee View.  The goal of this hop is to get new Google Friend Connect Followers for your blog and be introduced to new blogs to follow.  Be sure to leave a link when you follow so I can follow you back!  Have a great weekend!