Happy Aloha Friday!
.
In Hawaii, Aloha Friday is the day that we take it easy and look forward to the weekend. So on Fridays let's take it easy on posting, too. Ask a simple question…nothing that requires a lengthy response. It's a great way to make new blogging friends!
Let's get right to it!  My question for you this week is:
Do you go by a nickname, or have you anointed your kids with nicknames?
I wrote about how my parents, siblings, aunts uncles, cousins and anyone who's known me from birth until 6th grade call me 'Shelly', the nickname my parents gave me before birth.  If you missed it, it's the 'What's in a Name' post.  Since it's really hard to come up with a nickname from 'Stacy' aside from 'Stac', my best friend anointed me with the nickname of 'Sassy' (which is why my web design stuff and other user names here and there is 'SassyDesigns'); my best friend's nickname is 'Wild1'.   Which is pretty much self-explanatory.
Princess Nagger has the most nicknames – obviously 'Princess Nagger' being the one most used, but we also have called her 'Kaniggly Kanagger' since birth, along with 'Nagalicious' and then there's 'Princess Puddlemaker' when she was in diapers.  Oh, and we do refer to her as 'DQ' aka Drama Queen at times, too.  Or just plain old 'Nagger'.  I know, she's going to love being referred to by those fun nicknames when she gets older, isn't she?  At least maybe that will deter any potential future boyfriends named Spike or Snake.  Or not.
How about you?  Do you go by a nickname or have given your kids fun and/or unusual nicknames?
.
.
40 is the new 20, isn't it?  I'm participating in Follow Friday 40 and Over – please be sure to leave a link to your blog so I can come check out your site and follow you, too!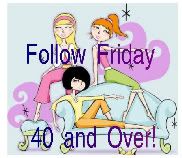 .
I've been forgetting to link up with Fun Follow Friday hosted by Simply Stacie and My Wee View I'm going to make an effort this week!  The goal of this hop is to get new Google Friend Connect Followers for your blog and be introduced to new blogs to follow.  be sure to leave a link when you follow so I can follow you back!  Have a great weekend!