Happy Aloha Friday!
.
In Hawaii, Aloha Friday is the day that we take it easy and look forward to the weekend. So on Fridays let's take it easy on posting, too. Ask a simple question…nothing that requires a lengthy response. It's a great way to make new blogging friends!
Since Princess Nagger was home with a nasty flu bug yesterday (finally, after 7 years, I was able to truly empathize with all my bloggy friends who have blogged about barf.  Seriously, PN hasn't had a flu bug…ever.  Until now.  Not a fun thing to deal with – now I can truly say 'been there' when I couldn't before.)  At any rate, I'm a bit frazzled after the upchuck clean up from the middle of the night into yesterday – but she's feeling better, so (hopefully) she'll be going to school today, so long as she has no fever or other symptoms of the bug. (fingers crossed)
She has mentioned recently that she'd really like to join Girl Scouts (and since she's only in 2nd Grade, they're actually 'Brownies'.)  I've been trying to find out more info, since that's not something I did as a kid (aside from one year of Awana, which is similar but not).  So my question for you this week is:
Were you a Girl Scout (or Boy Scout) or Brownie when you were a kid, or were any of your kids Girl/Boy Scouts or Brownies?
I'd love to know what's involved since I'm totally clueless.  I want to encourage Princess Nagger to participate in anything she shows an interest in, but want to make sure it's something she won't decide she doesn't like after a few times (and after money has been spent) like last year's attempt at Summer Day Camp.
.
I just discovered this blog hop and thought I'd join in the fun!  Please be sure to leave a link to your blog so I can come check out your site and follow you, too!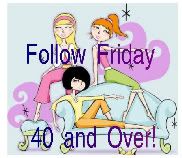 .
I've been forgetting to link up with Fun Follow Friday hosted by Simply Stacie and My Wee View I'm going to make an effort this week!  The goal of this hop is to get new Google Friend Connect Followers for your blog and be introduced to new blogs to follow.  be sure to leave a link when you follow so I can follow you back!  Have a great weekend!