Happy Aloha Friday!
.
In Hawaii,

Aloha

Friday is the day that we take it easy and look forward to the weekend. So on Fridays let's take it easy on posting, too. Ask a simple question…nothing that requires a lengthy response. It's a great way to make new blogging friends!
It's been awhile since I've had the opportunity to participate in Aloha Friday – I'm still getting back into the 'normal' routine of things after having been gone on my impromptu Bloggy Hiatus due to some unbloggables, so please bear with me.  It has been so freakishly hot this summer, this week has been no exception with the temperatures in the upper 90's and the heat index over 100.  So my question for you this week is:
How do you keep cool?
Since our 1817 house wasn't equipped with central air, we pretty much have to rely on window units – living room, bedrooms and Summer House.  The living room still hovers in the lower 80's and the rest of the house tend to climb to about 90 degrees or so (yes, that includes the kitchen and upstairs bathroom) so we pretty much live in the living room to eat dinner and watch TV, or the Summer House, where all our computers are set up.  Our next house will definitely have central air – it's on my 'list'.  At least the window units in the bedrooms do the job on keeping those rooms cool for sleeping – I don't know about you, but I cannot sleep in a hot room.

I'm looking forward to my favorite season, Fall, when we'll have crisp sunny days.  I'm not a heat lover (unless I'm hanging out on a beach in the Caribbean), at least when the weather is cooler you can layer – when it's hot, you can only take so many clothes off!  Princess Nagger has been having fun with her Super Soaker – and I've actually encouraged her to tag me with it.  Our pool sprung a leak so we've been pool-less this year, so we've had to improvise.  How do you keep cool?

.
I just discovered this blog hop and thought I'd join in the fun!  Please be sure to leave a link to your blog so I can come check out your site and follow you, too!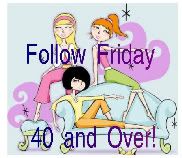 .
I'm also participating in Fun Follow Friday hosted by Simply Stacie and My Wee View. The goal of this hop is to get new Google Friend Connect Followers for your blog and be introduced to new blogs to follow.  be sure to leave a link when you follow so I can follow you back!  Have a great weekend!