Happy Aloha Friday!
.
In Hawaii, Aloha Friday is the day that we take it easy and look forward to the weekend. So on Fridays let's take it easy on posting, too. Ask a simple question…nothing that requires a lengthy response. It's a great way to make new blogging friends!
Today is polar opposite from last Friday – we had 90+ degree temperature then, today we'll be hovering in the mid-70's.  Perfect Fall weather!  Since the stores have already been stocking up on their fall, Halloween and Thanksgiving decor (freakishly earlier each year), my question for you this week is:
Do you decorate for Fall/Halloween/Thanksgiving? And if so, when do you decorate?
I love our front porch, it's a fun one to decorate.  I started decorating specifically for Thanksgiving about 6 years ago (we've been in our house for 7 years now).  As Princess Nagger has gotten older, I've started decorating earlier and incorporated a few Halloween-ish type decorations like some cute scarecrows (and if we actually remember to do some carving, jack'o'lanterns will be added this year.  But no promises.  I've bought no less than three of those carving kit/knives/stencils for fun, but put them in a 'safe' place and forgot about them.  I still haven't found them.)   And some cute ghosts and black cats in the living room.
Since we usually have company for Thanksgiving, I always want to make our front porch look nice for the occasion, and decorate the first floor with a fall theme as well.   But before I started adding some hints of Halloween to the decor, I always decorated a week or two before Thanksgiving, then changed out the Fall/Thanksgiving decor to a Christmas theme the weekend of Thanksgiving.  Now I decorate earlier so all that work can be enjoyed for a longer period of time – and Princess Nagger loves sitting on the hay bales and admiring the scarecrows and pumpkins while she waits for the bus.
I'm getting the 'bug' to decorate early this year – blame it on the stores already having the fall decor bursting forth from their overly stocked shelves.  Or maybe it's just because I love Fall so much.  Do you do any decorating for Halloween, Thanksgiving or Fall in general?  If you don't, why not, and if you do, when do you start the whole madness?

Follow Friday 40 and Over
.
I just discovered this blog hop and thought I'd join in the fun!  Please be sure to leave a link to your blog so I can come check out your site and follow you, too!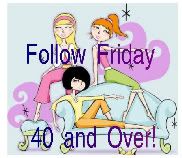 Fun Follow Friday
.
I'm also participating in Fun Follow Friday hosted by Simply Stacie and My Wee View. The goal of this hop is to get new Google Friend Connect Followers for your blog and be introduced to new blogs to follow.  be sure to leave a link when you follow so I can follow you back!  Have a great weekend!