Everyone has an opinion.  We're all entitled to our own opinions.  We're human (most of us), we're individuals, so having an opinion is par for the course.  Some people tend to be more opinionated than others, and some people like to deem their opinion as the opinion to have, and will try to strong arm convince you to change your opinion to match theirs.
I tend to be more introverted when it comes to giving an opinion about something.  However, if I feel strongly about something, I'll state my opinion, but be sure to follow it with "That's just my opinion" and am more than willing to hear what other opinions are.  I'm not one that is set in one way of thinking, I'm open minded and always willing to listen to alternatives.
Since I experienced yet another round of Blue Screen of Death incidents today, being able to write a coherent Spin Cycle post for this week sort of went out with the blue screen.  But since this week's Spin Cycle is all about Opinions, I remembered a post I had written long before I had an 'official' blog – one that I posted on TV.com during the whole fight to save the show "Journeyman" in early 2008.   It's a bit wordy, so for those with a short attention span, I apologize.
Originally posted on March 12, 2008 (radically edited):
Television, as we know it, is changing as we know it. Think about it. Talk to anyone who was born before Television even existed and they'll tell you how much it's changed since its inception. Talk to anyone who was born within the last 40 years, and they'll tell you things have changed since even they've been around.
Color television was only introduced into households in the mid 1950's early 1960's, but very few shows were actually filmed and broadcast in color.  Although NBC's 'Ford Theatre' became the first color filmed series in October 1954.
While all the networks were airing color programs by 1968, the television sales for black and white TV's still outnumbered the color sets until 1972 – which, apparently, was just about the time that half the television households in the U.S. finally had color sets. 1972!
My grandfather would fondly recall the 'good old days' when his whole family would gather around the radio for their favorite weekly programs – it was something to look forward to each and every week, and the whole family enjoyed the entertainment together.  When television came along, it was again a 'family thing', where the whole family would enjoy an evening of television, amazed at this new technology, and even more amazed when color television came to fruition.
The rapid changes of television past are only changing more rapidly as more people and companies have the means to try new things.  My husband's Electronics Engineering Technology class is astounded to hear about televisions that didn't have a remote, television viewing before there was cable, DVR's and 'On Demand', "because, like, that's just wrong, man!"
We are in a fast-paced world, everyone is in a hurry to get somewhere, and no one has time to be mandated by a specific television schedule. More people are shifting away from sitting in front of the television for a block of time each evening or each week because it's not 'the good old days' anymore. You have iTunes, iPhones, iPods and wireless computers. Who needs to actually have a television in their house anymore?
With how rapidly technology is ever changing (watching TV on your iPod, checking email on your coffee mug that doubles as a computer screen) networks have their work cut out for them. Gone are the true 'ratings' days – Nielsen hasn't been able to keep up with the technology over the years and comparatively speaking, there aren't enough Nielsen boxes in households to truly calculate actual viewer numbers.
Yet, the networks still rely on that old archaic method of deciding if a show should stay on the schedule or ultimately be canceled.  NBC is a prime example – a network that used to be the #1 network of all the original three.  They led the pack in new technology, they led the pack in programming, they simply led the pack.
Over the years NBC has slipped off their pedestal and have not been the #1 network in quite awhile. I can only speculate that part of that is due to their programming choices and how they promote – or don't promote – quality shows. Instead, they've been the network that cancels shows in infancy, never looking back.
In this ever changing, fast-paced world, there needs to be a restructuring of how the ratings are calculated. There needs to be continuity across all the venues available today, and those that will be available in the future.
Television as we know it is changing rapidly. At some point we will come full circle and fewer households will physically have a television in their houses, because they'll be carrying iPhones, iPods, netbooks and laptops – and yes, even coffee mugs with an interactive computer screen.
This Opinionated Spin Cycle was brought to you in part by Jen, whose opinion I greatly value and happens to be
Sprite's Keeper
.  Head on over and check out the other spinners – find out how opinionated others can be – in a
good
way!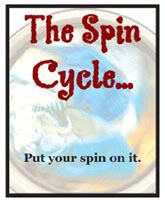 Quick Note: If you're reading this is in IE7 or earlier, you won't be able to leave a comment – I'm still trying to find out why…meanwhile, if you insist on using IE as your browser of choice, upgrading to IE8 resolves the issue and comments can be left.  Or you can jump on the bandwagon of Firefox, Safari or Google Chrome and have way less headaches… 😉