This week we bid adieu to 2009. Which mean this week's Spin Cycle is the final one. Of the year, that is. I've had the pleasure of participating in the Spin Cycle weekly for the last few months or so – not sure why I didn't jump on board sooner, but hey, at least I get to finish out the year with a bang! Well, OK, maybe not that dramatic.
This week's Spin is of course all about New Year Resolutions. What's a New Year without Resolutions? A year of non-failures, that's what it is! I kid, I kid.
I decided to dig back into my archives and see what I wrote last year about resolutions. Let's see how well I did (notations added in blue italics):
Originally posted on January 1, 2009 (edited to eliminate excess):
It's a New Year…Happy New Year! Most people have been plotting revenge figuring out what their Resolutions List should contain. I've never really been one to compile a Resolutions List, you know, conform to the masses that create a list that sets one up to fail…miserably.
Sure, you know there's the usual 'Get more organized', 'Lose weight or Get in shape', etc., etc., yada yada yada. I thought about doing some sort of 'Non-Resolution List', of things I'm not going to be doing in the year 2009, but I thought that would be too negative, and I'm all about the positives. But I better keep the list short, so I know I can attain them. I give you my 2009 Resolutions:
1. Enjoy what 2009 has in store.
What?! You mean I can't just decide to post one item as the Resolution for 2009? Oh, fine. How about these:
Eat healthier and get in better shape. (yes, the same thing

everyone

else plans to do!) (This resolution started off fine, but then…. didn't. So I guess I better restart again for 2010).


Make New Friends. (you can

never

have too many friends!) (I've made some wonderful bloggy friends over the last year – you all ROCK! So this one was a success…and I'll continue the trend in 2010!)


Send family member's and friends Birthday gifts out in a timely manner. (instead of days weeks months late.) (Um, yeah… didn't happen. Try again in 2010).
Figure out how to manipulate change the templates in Blogger so I can have a 3-column blog setup.

(I did manage this resolution – only now I'm figuring out WordPress and getting ready to move over there instead. Stay tuned for that).

Read a book a month. Wait, let's make that one book per quarter – that should be more attainable! (I had to laugh when I read this. This one didn't happen either. Have to try again!)


Open an Etsy Shop. (all the 'cool kids' are doing it!)

(

Also didn't happen – can't sell alcohol on Etsy, so it's a no-go. But I did change my website to Princess Nagger Wine & Gifts which just 'premiered' this week. Good times.)
And finally, most importantly, enjoy what 2009 has in store, no matter what that may be.

(This was definitely a successful resolution. Although I have to say that the year sped by way too fast for me. Maybe 2010 will slow down just a bit. Maybe.)



So let's review – out of 7 Resolutions, I completed 3-1/2 of them. Half. Which isn't all that bad if you think about it – it's 3-1/2 more than I might have done in 2008. So what about 2010? The New Decade…there should be some exciting resolutions, right? Maybe not so much exciting as necessary. Truly.
Finish pulling the tacky wallpaper off the upstairs hallway and paint it – I really shouldn't have left the wallpaper remnants hanging as long as I have, but when you have 12-foot ceilings it's a little intimidating.

Organize and paint Princess Nagger's Room – really need to update it from the baby motif I put in there when she was born.

Repaint the downstairs powder room. Seriously, that lilac color has got to go!
Extend the top shelves in my bottom cupboards – really, what brilliant mind thought that half a shelf was sufficient?!

Purge unnecessary 'stuff' and regain the use of the finished attic – it would be really nice to clear out the boxes and be able to enjoy the ginormous claw-foot tub in the bathroom up there!
I think that's about enough of the resolutions – lots of work, but necessary. Now to figure out where to pick up some motivation to go along with the resolutions. Any suggestions or paint volunteers?
I wish everyone a Happy New Year – may you have Health and Prosperity during 2010! See you next year!

Don't forget to stop by and see Jen over at
Sprite's Keeper
– she's been on family vacay this week with some excellent guest posters. But she'll be back on Friday just in time for the Spin Cycle Finale. Check out the other Spinners – there are some excellent resolutions being bandied about!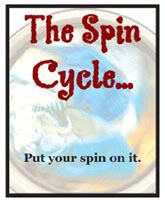 No tags for this post.