This week's Spin Cycle assignment is Holiday Newsletters. Do you send out a Holiday Newsletter each year? We never have – our friends and family are lucky if their Christmas Cards arrive in time to ring in the New Year.
This year will be no different.
I haven't picked out the cards we'll be sending this year, nor have I gone and picked up stamps as of yet. So I decided to have lots of fun with this Spin Cycle and do a over-the-top spoof fun version of a Holiday Newsletter.
Dear Friends and Family,
We have finally decided that it was time to actually honor you with an Annual Newsletter. After all, it is that time of year to share with you our adventures in this journey we call life. 2009 has been a year of magic and wonder.
Princess Nagger, now 7, is growing by leaps and bounds. When she got her first "I Dig Dinosaurs" kit, she seemed quite interested in discovering previously undiscovered dinosaur bones. This year she set out into the Back 40 with determination, and successfully unearthed the never before heard of Dorkeosaurus. We were pleased when she had her first article published in the Journal of Avocational Paleontology. Paleontologists from all over the world are now digging in their backyards hoping to unearth more bones and information of the Dorkeosaurus.
Stacy had a very busy year. Between her creative work at Dreamworks Animation and Senior Partner of Goldman Sachs, she introduced a line of children's novels and hand made active-wear. Along the way she took three startups through their IPO. We are proud of her work serving on the Board of Directors of Mattel, Coca-Cola, and Walt Disney.
Hovering Hubby was immersed in Graduate School studies, and managed to co-author a paper on Conjoint Analysis Self Explicated and Discrete Choice Models and accept a Nobel Prize for his new discoveries in Green Fluorescent Protein.
We were able to squeeze a little traveling in this year. We started in Greece, traversed our way through Europe, then on to the Congo, Sweden, Ethiopia, Greenland, Holland, Italy, Japan, Korea, Malaysia, New Zealand, Venezuela, and Zaire. Our trip sailing our new yacht around the world was a great experience, especially for Princess Nagger, as we learned to communicate with Dolphins and discovered a new unique breed of penguins Happy Feet style.
Travis and Rolex, our Blue and Sable Merle Shelties, learned to speak. Latin. Other than that, it was a very quiet year. So from our household to yours, all the Blessings of the Season and may your New Year be as prosperous as ours. We found out yesterday that we won the $150 Million Lottery.
The Wannabes,
Stacy, Princess Nagger and Hovering Hubby
This Silly Spin Cycle was brought to you in part by Jen, a fellow Board of Director for Walt Disney and
Sprite's Keeper
. Head on over and check out the other spinners – you might find some great ideas for your Annual Holiday Newsletter. Or at least enjoy a good laugh.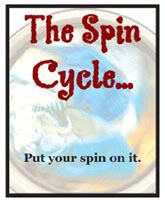 Edited to add:
Playing along with Fun & Games with Jenners – Over-The-Top Holiday Newsletters: Game 11