I used to cook a turkey both for Thanksgiving as well as Christmas, because that's what my mom always did.  Then my hubby pointed out that since both holidays are only a month apart, maybe I should think about cooking something else for our Holiday Feast at Christmas.  Obviously he's not as big of a fan of turkey leftovers for days like I am.
Both he and Princess Nagger love ham, but I've never been very fond of it.  Sure, I tend to be a ham, but eat it?  Not so much.  Especially when we've had it at other people's houses or eating out and it's either been too salty or too dried out for my liking.
Over the years I've experimented with different types of ham and many different recipes.  Finally, a couple of years ago I finally found the combination that worked so well, even I love this ham, and Princess Nagger will eat it until the cows come home – or in this case, the piggies.
Slow Cooker Glazed Ham

Ingredients
| | |
| --- | --- |
| | |
| 30-ish | |
| | apple cider, or as needed |
| 1-ish cup | |
| 1-ish cup | |
| | |
| | |
| | |
| | |
| | vanilla extract (optional) |
| | |
Directions
Line the crock pot with foil or one of those handy-dandy crock-pot liners (that I always forget to pick up, so I end up just lining with foil.  Just be sure to do either, because it makes clean up so much easier).  Layer the bottom of the lined crock-pot with brown sugar.
Press whole cloves into the ham so they are evenly distributed. You may score the ham for easier insertion if you wish, or go the 'easy' route and get a spiral cut ham like I do and push the whole cloves randomly into the sliced sections.
Place the ham in a slow cooker cut (flat) side down.
Pack the brown sugar on top of the ham, pressing into the cloves. Pour the maple syrup over the ham – some of the brown sugar will get washed away, but what stays on is a bonus.   Sometimes I'll sprinkle more brown sugar on after I pour on the maple syrup.
Season the apple cider with cinnamon, nutmeg, ginger, ground cloves and vanilla. Pour into the crock pot until you get to the fill line.  Preference is that you only want about 2 inches of ham above the surface, but if your ham exceeds the top of the crock pot like mine usually does, it doesn't always work out that way.  Add the orange peel to the pot.
Cover and set to Low.  Depending on the size of the ham, and whether or not it's fully cooked or uncooked, you'll want to cook it anywhere from 4 to 10 hours.  Usually I get a spiral cut pre-cooked ham and it's usually ready in about 3-1/2 to 4 hours on low.
If your ham is too big to fit in your crock pot, you can cut it to fit, or when you line the crock pot with foil, make sure there's enough extra to basically wrap over the top of the ham.  When the ham is that big for my biggest crock pot, I'll cover the top with foil, then set the crock pot lid on top just to make sure the heat is contained.
I also check the ham frequently, and if there's any part that sticking up out of the liquid, you want to either baste it frequently to make sure that part doesn't dry out, or if you're all about 'easy' (like me), just turn the ham over every so often to make sure every surface has a chance to be covered.  I'll usually turn the ham after about 2 hours, then flip it back about a ½ hour before it's time to eat.
I serve this with some of the same side dishes I make for Thanksgiving:
Slow Cooker Apple Stuffing/Dressing
Cranberry Sauce with Port and Cinnamon
Pumpkin Cognac Crème Brûlée (or I make a regular Crème Brûlée or Chocolate Crème Brûlée, depending on what the craving is at the time)
Growing up we always had our Christmas Feast on Christmas Eve – a Swedish Tradition.  Since it varies on whether or not December 24th is a work day (formerly for me, currently for hubby), I've changed the tradition and make the feast on Christmas Day instead.
If you celebrate Christmas, what kind of feast to you enjoy?  And if you celebrate other holidays this time of year, what kinds of traditional foods do you get to toss your diet out the window for?
This mouth-watering Spin Cycle was brought to you in part by Jen, one of my favorite hams, and Sprite's Keeper.  Head on over and check out the other spinners – be warned, though, you're going to get awfully hungry reading all the yummy-ness and might have to resist the urge to lick your computer screen.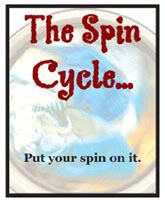 No tags for this post.