This is the second week of Advent which is "Peace" – so for this week's Quotable Sunday I've found some great quotes on 'Peace'…enjoy!
"There is no way to peace, peace is the way."

A. J. Muste


"When you find peace within yourself, you become the kind of person who can live at peace with others."

Peace Pilgrim
"Peace is not merely a distant goal that we seek, but a means by which we arrive at that goal."
Martin Luther King, Jr.
"Peace is not something you wish for; It's something you make, Something you do, Something you are, And something you give away."
Robert Fulghum
"Each one has to find his peace from within. And peace to be real must be unaffected by outside circumstances."
Mahatma Gandhi
"Peace is not the absence of conflict, but the ability to cope with it."
Unknown
"When the power of love overcomes the love of power, the world will know peace."
Jimi Hendrix
"I do not want the peace which passeth understanding, I want the understanding which bringeth peace."
Helen Keller
"A smile is the beginning of peace."
Mother Teresa
Quotable Sunday is brought to you by Toni, from A Daily Dose of Toni – why don't you join us?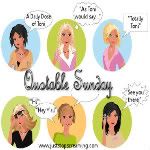 No tags for this post.