The mad dash for getting everything done in time for Thanksgiving has begun! I've gotten most of my shopping done for the Thanksgiving Feast, but discovered I'd forgotten to pick up a few very important ingredients… oops!
So I'll be joining the last-minute masses in battling my way through the aisles to get those last minute things that I forgot. I'll either do that today or I have to do it by tomorrow, because Wednesday will be set aside for making all the 'make ahead' stuff so I'm not trapped in the kitchen all day on Thursday. I'm sure I'll procrastinate until tomorrow since I want to spend some time catching up on blog reading I'm way behind on.
The house still needs a thorough cleaning – I got started, but Tornado Nagger seems to make short work of any cleanliness there is. She'll be off school for the holiday starting Wednesday, so here's hoping I can keep her busy with me in the kitchen so she won't destroy the clean rooms I'll hopefully have accomplished by then. I'll keep you posted.
Meanwhile, I thought I'd start off this very hectic week with some fun Turkey Trivia for you to enjoy…
Turkey Facts

Here turkey, turkey, turkey
Turkeys are able to adapt to a wide variety of habitats. However, most turkeys are found in hardwood forests with grassy areas.
The best time to see a turkey is on a warm clear day or in a light rain.
They what?
Turkeys have heart attacks. When the Air Force was conducting test runs and breaking the sound barrier, fields of turkeys would drop dead.
Turkeys can drown if they look up when it is raining.
Eat, sleep, gobble
Turkeys spend the night in trees. They fly to their roosts around sunset.
Turkeys fly to the ground at first light and feed until mid-morning. Feeding resumes in mid-afternoon.
Gobbling starts before sunrise and can continue through most of the morning.
Eyes in the backs of their heads?
A wild turkey has excellent vision and hearing. Their field of vision is about 270 degrees. This is the main reason they continue to elude some hunters.
And they're fast, too!
A spooked turkey can run at speeds up to 20 miles per hour. They can also burst into flight approaching speeds between 50-55 mph in a matter of seconds.
So close, yet so far
Benjamin Franklin wanted the national bird to be a turkey.
Of course I can't have a truly fun Turkey post without adding the Adam Sandler Turkey Song:
This week Jen from
Sprite's Keeper
is dedicating the entire week for the Spin Cycle on Giving Thanks… What does this post have to do with Giving Thanks? Well I'm very thankful for the yummy turkey, of course! I'm going to see if I can be creative enough to participate every day…we'll see how that goes! Meanwhile, head on over and check out the other Thankful Spinners and join in the fun!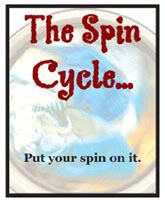 No tags for this post.