This week
Jen
is busy prepping for her little munchkin's birthday, so for this week's
Spin Cycle
she's given us free reign on what to post for this week. Since I'm prepping for Princess Nagger's birthday (which is only 2 days after Sprite's – which explains why they share similar personality traits though PN has a few years on Sprite…which means I'll try keep the PN antics to a minimum so as not to scare poor Jen…)
I decided to recycle this post from last year – you know, during the time when I was hearing a great echo in the blogosphere and pretty much talking to myself. Which isn't too far from reality, I do tend to talk to myself. But I've heard that as long as you don't answer yourself, you haven't arrived in Crazy Town yet. Or was it that you were already there? I can't answer that.
I also thought it would be a great way to win this particular award from
Supah Mommy
:
Which she only doles out to you if you do a post about your cat. So this is a win-win for me, really. And it's always nice to recycle – in more ways than one. So without further ado, I bring you the post that was originally posted on December 21, 2008:
Norman, our black Persian, is a cool cat. Really cool. Everyone who meets him loves him and wants to take him home with them. He puts up with anything – including being decorated by feathers:
And even letting the Princess Nagger put her tutu on him. (Darn! Where was my camera for
that
event?!) But for some reason, the Princess Nagger seems to have it stuck in her mind that a 'tiger striped cat' would be even better. Why? I have no idea.
She's not telling.
Instead, this conversation recently took place:
PN: "We need to dye Norman's fur."
Me: "What?! Why do we need to do that?"
PN: "Because then we can turn him into a tiger-striped cat."
Me: "Why in the world do you want to turn him into a tiger-striped cat?"
PN: "Because tiger-striped cats are cool!"
Me: "Norman's a cool cat all on his own…he doesn't need to be changed into something else!"
PN: "But I want a tiger-striped cat!"
Me: "Why?"
PN: "Because tiger-striped cats are cool!"
Me: "I can see this conversation is going nowhere. We are
not
dyeing Norman's hair, it's not good for him, and besides, Norman's 'cool' just the way he is!"
PN: "But he'd be cooler if he were tiger-striped!"
Me: "Why?"
PN: "Because tiger-striped cats are cool! Can we get a tiger-striped cat? Maybe Norman would like a brother…"
Me: "Not gonna happen…we are already getting a new puppy, we don't need to get another cat, too."
PN: "Well, if we're getting a brother for Elvis, then we need to get a brother for Norman so he doesn't feel left out. A tiger-striped one."
Negotiations with the Little Princess are so hilarious – her mind is always working overtime looking for that next 'angle' in the negotiation process. She's going to be a handful as she gets older. Especially during her teen years. Oh how I'm nervous about those teen years.
Norman is a cool cat just the way he is. I made sure to point out to the Little Princess that it's not a good idea to try to 'change' others – people or pets – to make them what you want them to be. When I asked if she would want someone insisting she be turned into something else, or changing her in any way, she didn't like that so much. Norman wouldn't either. He's staying the cool cat he already is. End of discussion.
Thanks to the awesomeness that is Jen from Sprite's Keeper we get to spin in circles every week. Sure, you might get dizzy sometimes, but what would I be without being able to be a dizzy blonde once a week with a reason? Check out the other spinning participants – most of them try to keep your dizzy spells to a minimum.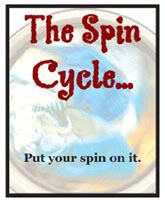 And while you're in a clicking mood, be sure to check out what Supah Mommy's doing for her friend and the awesome auction she's putting together for sweet little Jaden – I'll be donating some things from Savannah*Haven to help out with this worthy cause:
And if that's not enough clicking to keep your fingers happy, why not hop on over to my giveaways and throw your comment into the hat to be eligible to win these cool items:
Free Movie Night Giftpack
ends 11:59pm EDT 11/13/09
---
Gold Label Virgin Coconut Oil
ends 11:59pm EDT 11/13/09
---
Elfing Around Christmas Adventure
ends 11:59pm EDT 11/18/09