This week's
Spin Cycle
is
Halloween
! I'm taking trip down memory lane with Princess
Nagger
's Halloween moments…won't you join me?
First Halloween:
Second Halloween:
Yes, I did indeed use the exact same costume 3 years in a row…I figured why not since she didn't seem to mind, and since she's always been petite it fit her better each year – well, except the last year…that might have been pushing it just a smidge since it was a size 12-24 months.
Fourth Halloween:
Here we are two days away from Halloween and Princess Nagger finally made a decision on her costume last night. Originally she was going to go as the Tooth Fairy and wear her purple tutu, add some wings, a tiara and a wand, but she changed her mind. Several times. When she saw me going through these pictures, she excitedly pointed at the costume she had worn for her fourth Halloween – the Forest Fairy costume.
I spent some time digging through boxes and finally located it – she tried it on last night, and it fits perfectly! Even better than when she wore it the first time, so we're good to go. What a relief! I'll post pictures next week so you can see.
Meanwhile, Jan from Jan's Sushi Bar was a wild woman last week posting a plethora of recipes to entertain the masses and spin circles around the Spin Cycle. She encouraged me to post my Thanksgiving Feast recipes, so this week I'm doing just that. For those that are just tuning in, this is the list of recipes I prepare for Thanksgiving:
Champagne Turkey
Make-Ahead Mashed Potatoes
Slow Cooker Apple Stuffing/Dressing
Slow Cooker Sweet Potatoes
Cranberry Sauce with Port and Cinnamon
Pumpkin Cognac Crème Brûlée
Apple Cranberry Pie
I'm posting them as a daily series this week in case anything on that list catches your eye or tempts your taste buds.
Some people really love that canned cranberry sauce. I've never been a fan. At all. I guess it's something about the way it looks when it slides out of the can, the ribbed impressions from the can prominently present. Does not look appetizing to me. Hubby and Princess Nagger love that stuff. So there's always a can of that at Thanksgiving, too.
Some of our dinner guests that have always preferred to eat that scary-looking gel hesitantly try the fresh cranberry sauce I make each year, and are astounded at how good fresh cranberry sauce really can be. It's really simple to make, too. Check it out:
Cranberry Sauce with Ruby Port and Cinnamon
| | |
| --- | --- |
| | |
| | |
| | |
| | |
| | |
| | |
| | 2-inch-by-1/2-inch strip of orange peel |
| | (12 ounce) package cranberries, washed |
| | pinch of salt |
In a medium saucepan, combine the Port and sugar and pinch of salt. Tie the cloves, cinnamon stick, allspice and black peppercorns in a small piece of cheesecloth (or, if you don't have cheesecloth you can tie them in a coffee filter with twine – it worked in a pinch for me one year). Add the spice bundle to the saucepan along with the orange peel. Bring the mixture to a simmer over medium-high heat. Reduce the heat and simmer gently until the wine is reduced to 1 cup, about 4 minutes.
Add the cranberries to the wine. Return to a simmer over medium-high heat then lower the heat and simmer until the cranberries pop, about 10 minutes. Remove from the heat and pour into a bowl. This is where I pour it into the decorative serving bowl I'll be using on Thanksgiving. Let cool to warm, then remove the spice bundle and orange peel. Cover and refrigerate until ready to serve.
Do Ahead:
Can be made 3 days ahead. Cover and chill. Bring to room temperature before serving.
Cranberry Sauce Tip:
Cranberry sauces (and in fact all relishes) taste immeasurably better with just a pinch of salt added. Even though seldom included in recipes for cranberry sauce, a little salt very subtly brightens and lifts the flavor.
Tune in tomorrow for the Pumpkin Cognac Crème Brûlée. You're not going to want to miss that one!
To get in the Halloween spirit, head on over to Sprite's Keeper – there are some great Halloween tales and memories to check out!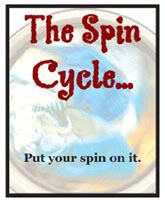 No tags for this post.