I'm still nursing my sinus infection (antibiotics being called in tomorrow…WooHoo!) so since my brain is still befuddled, I decided to pick random quotes for this week's Quotable Sunday… enjoy!
"Yesterday is but today's memory, tomorrow is today's dream."

Kahlil Gibran
"If a man could have half his wishes, he would double his troubles.
Benjamin Franklin
"He who does nothing, does not fail."
Italian Proverb
"A closed mouth gathers no foot."
Unknown
"A gem cannot be polished without friction, nor man perfected without trials."
Chinese Proverb
"A good deal of trouble has been caused in the world by too much intelligence and too little wisdom."
Unknown
"A happy person is not a person in a certain set of circumstances but rather a person with a certain set of attitudes."
Hugh Downs
"A keen sense of humor helps us overlook the unbecoming, understand the unconventional, tolerate the unpleasant, overcome the unexpected and outlast the unbearable."
Billy Graham
"Be less curious about people and more curious about ideas."
Marie Curie
"Be more concerned with your character than your reputation, because your character is what you really are, while your reputation is merely what others think you are."
John Wooden
Quotable Sunday is brought to you by Toni, from A Daily Dose of Toni – why don't you join us? Here are the basic and easy-to-follow rules…come on and join in, it's fun! 😉
The rules (for newbies)
~Go to your blog and post one or more of your favorite quotes.
~Go to Toni's and sign mister linky with the link to your post and then go visit the other participants and leave some comment love.
~Spread the word of course…we want lots of Quotes to read 🙂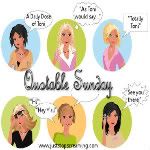 No tags for this post.