Today marks Day 4 of rain, rain, and more rain. It's a cold rain – the high's have only barely reached 40 during the day, so if I hadn't had to go out and run errands during these rainy days, they would have been the perfect kind to curl up in front of the fire and read. Of course in our area that also means intermittent power outages – sometimes they only last 5 minutes, but that's enough to knock out internet and elevate frustration.
So if you're wondering why I've seemed sort of scarce the last few days, you know why! Luckily tomorrow it's supposed to be sunny and 54, so it will be a welcome break in the dreary rain…and perfect time for catching up! Guess what kind of quotes I decided to find for Quotable Sunday this week? You guessed it – Rain… enjoy!
"Life is like a rainbow. You need both the sun and the rain to make its colors appear."
Wolfdyke
"Anyone who says sunshine brings happiness has never danced in the rain."
Unknown

"May you always have walls for the winds, a roof for the rain, tea beside the fire, laughter to cheer you, those you love near you and all your heart might desire."
Irish Blessings
"The best thing one can do when it's raining is to let it rain."
Henry Wadsworth Longfellow
"A poet is someone who stands outside in the rain hoping to be struck by lightning."
James Dickey
"There will be a rain dance Friday night, weather permitting"
George Carlin
"It always rains on tents. Rainstorms will travel thousands of miles, against prevailing winds for the opportunity to rain on a tent."
Dave Barry
"And when it rains on your parade, look up rather than down. Without the rain, there would be no rainbow."
G. K. Chesterton
"We can never have enough of nature. We must be refreshed by the sight of inexhaustible vigor, vast and titanic features, the sea-coast with its wrecks, the wilderness with its living and its decaying trees, the thunder-cloud, and the rain."
Henry David Thoreau
"Some people walk in the rain, others just get wet."
Roger Miller
"Those that dislike cats will be carried to the cemetery in the rain"

Dutch Proverb
"If a kid asks where rain comes from, I think a cute thing to tell him is "God is crying." And if he asks why God is crying, another cute thing to tell him is "Probably because of something you did."
Jack Handy
Quotable Sunday is brought to you by Toni, from A Daily Dose of Toni – why don't you join us? Here are the basic and easy-to-follow rules…come on and join in, it's fun! 😉
The rules (for newbies)
~Go to your blog and post one or more of your favorite quotes.
~Go to Toni's and sign mister linky with the link to your post and then go visit the other participants and leave some comment love.
~Spread the word of course…we want lots of Quotes to read 🙂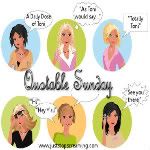 No tags for this post.