Can you believe it's already the first day of November? Princess Nagger made quite the haul trick-or-treating last night, and was generous to share some with us. Beware of major sugar buzzes as the day progresses. Since it's the first day of November I thought it would be fun to find some quotes or poems specifically about November for this week's Quotable Sunday… enjoy!
"The wild November come at last
Beneath a veil of rain;
The night winds blows its folds aside,
Her face is full of pain.
The latest of her race, she takes
The Autumn's vacant throne:
She has but one short moon to live,
And she must live alone."

Richard Henry Stoddard


"November always seemed to me the Norway of the year."

Emily Dickinson
"How silently they tumble down
And come to rest upon the ground
To lay a carpet, rich and rare,
Beneath the trees without a care,
Content to sleep, their work well done,
Colors gleaming in the sun.
At other times, they wildly fly
Until they nearly reach the sky.
Twisting, turning through the air
Till all the trees stand stark and bare.
Exhausted, drop to earth below
To wait, like children, for the snow."
Elsie N. Brady, Leaves
"November's sky is chill and drear,
November's leaf is red and sear."
Sir Walter Scott
"The morns are meeker than they were,
The nuts are getting brown;
The berry's cheek is plumper,
The rose is out of town.
The maple wears a gayer scarf,
The field a scarlet gown.
Lest I should be old-fashioned,
I'll put a trinket on."
Emily Dickinson

Quotable Sunday is brought to you by Toni, from A Daily Dose of Toni – why don't you join us? Here are the basic and easy-to-follow rules…come on and join in, it's fun! 😉
The rules (for newbies)
~Go to your blog and post one or more of your favorite quotes.
~Go to Toni's and sign mister linky with the link to your post and then go visit the other participants and leave some comment love.
~Spread the word of course…we want lots of Quotes to read 🙂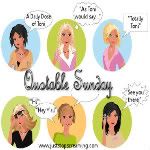 No tags for this post.