When we were growing up, my mom decided to bring a little extra money into the household by opening up a small daycare. Us kids were just about tweens by then, so our old toys were the perfect enticement for other kids to destroy enjoy. There was an eclectic mix of kids, some nice, some not-so-nice. But us kids managed to survive.
One of the most memorable of those kids was the one and only infant my mom agreed to take on. Tracy was a delightful baby, always happy, and as she started getting older, she only got nicer, if that's possible. With her, apparently it was. She got her niceness from her mom – a wonderful person, always thinking of others so it was no surprise that she was a nurse at the hospital. Her hours could be crazy sometimes, and since she was a single mom, was grateful that even when my mom discontinued her daycare, she agreed to continue to babysit Tracy.
Tracy was like a baby sister to us kids, and even though she was 12 years younger than me, she was nice, so we had no issue with her invading our rooms or playing with our toys. Because she was nice. Her mom eventually met a man who would become Tracy's step-dad, complete with step-siblings, so her days of hanging out at our house soon came to an end. We still kept in touch, though, and when I moved out at 19 and got my own apartment, I would offer to babysit Tracy on some of the weekends her step-siblings were at their mom's house, so Tracy's mom and step-dad would get some alone time.
When I picked her up at her parents house one weekend when she was still 7 years old, no sooner had she gotten in my car she blurted out: "I really hate this girl in my class because she's always mean to me." My immediate response was: "Hate is a really strong word…" Withouth missing a beat, she responded: "OK, I strongly dislike her…a lot."
Now that Princess Nagger is fast approaching that 7 year old age, I'm often reminded of Tracy in the basic nature of 'nice' and the quick thinking mode. She's been complaining lately about a boy in her class who apparently annoyed her in Kindergarten and since the school assigns the kids to random classes each year they advance, she only has two of the original kids in her class this year. One of them happens to be the boy that annoyed her in Kindergarten. As luck would have it, her teacher assigned him to the seat right next to her.
Princess Nagger and I have talked often about 'why' he annoys her, but she could never really come up with a good enough reason
why
, except that he accidentally steps on the back of her shoe when they're in line going somewhere which makes her trip out of her shoe, and he sat directly in front of her on the floor during reading hour in Kindergarten – he's taller than her, so he'd always block her view.
And she said she hated that.
I explained to her that 'hate' is a strong word, and if she doesn't like something she can always move or ask to be moved, and told her she should speak up or no one would know.
Well, she apparently 'spoke up' yesterday.
She had been increasingly irritated that the teacher would always partner her up with this boy, and he annoyed her. I told her to speak up and if she's so annoyed, talk to the teacher and ask if she could be partnered with someone else. Yesterday she apparently had enough, so when she got paired up with him yet again, she said something. Not to the teacher, but directly to the boy. No, she didn't tell him she hated him, but she did tell him she didn't like him. Which, to a six-year old, is pretty much the same thing.
Of course the poor boy's feelings were hurt, Princess Nagger got in trouble, and the teacher sat her down and explained what she did was wrong. The teacher had her apologize to the boy and write him a note of apology, too:
The teacher added her own note of explanation, and I thought she handled the situation very well.
I knew something was up when Princess Nagger got off the bus, because when I asked if she had a good day, instead of the usual 'Great!' response, she expelled a heavy sigh and said "No, not really." She explained what she did before I even read the note, so we had a nice discussion about saying things that will hurt other people's feelings. I asked her how she would feel if someone had said that to her, and of course she said she wouldn't like it. Her actual response was: "It would hurt my feelings and make me sad if someone said they didn't like me."
At least I can be relieved that she didn't use the word hate, so she apparently took the previous discussions to heart and remembered that it is a strong word. Let's hope when she reaches her tweens and teens she still remembers that, as I'm sure I'll be in for the foot-stomping, door slamming reactions to something I say – immediately preceded by those strong, hair raising words of "I hate you!" 'Hate' really is a strong word.
This post was brought to you by the
Spin Cycle
… Stop on over to see Jen, the brilliant mind that is the adorable
Sprite's Keeper
and the keeper of the spins… You sure won't hate her
or
her spinning friends!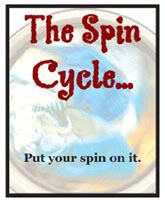 No tags for this post.