Early this morning we are heading down to West Virginia to pick up our new puppy (yes, that's a picture of him above – he's a Sable Sheltie). Since it happens to be
Quotable Sunday
, I thought it would be perfect timing to do quotes about Dogs and Puppies. Enjoy!
"If you think dogs can't count, try putting three dog biscuits in your pocket and then giving Fido only two of them."

Phil Pastoret
"Outside of a dog, a book is a man's best friend. Inside of a dog, it's too dark to read."

Groucho Marx

"My little dog – a heartbeat at my feet."

Edith Wharton
"I think dogs are the most amazing creatures; they give unconditional love. For me they are the role model for being alive."

Gilda Radner
"One reason a dog can be such a comfort when you're feeling blue is that he doesn't try to find out why."

Author Unknown
"My goal in life is to be as good of a person my dog already thinks I am."

Author Unknown
"Did you ever notice when you blow in a dog's face he gets mad at you? But when you take him in a car he sticks his head out the window."

Steve Bluestone
"A cat, after being scolded, goes about its business. A dog slinks off into a corner and pretends to be doing a serious self-reappraisal."

Robert Brault

"The reason a dog has so many friends is that he wags his tail instead of his tongue."

Author Unknown
"My dog is worried about the economy because Alpo is up to 99 cents a can. That's almost $7.00 in dog money."

Joe Weinstein
"I named my dog Stay so I can say, "Come here, Stay. Come here, Stay."

Steven Wright
"Happiness is a warm puppy."

Charles M. Schulz
Quotable Sunday
is brought to you by
Toni,
from
A Daily Dose of Toni
– why don't you join us? Here are the basic and easy-to-follow rules…come on and join in, it's fun! 😉
The rules (for newbies)
~Go to your blog and post one or more of your favorite quotes.
~Go to Toni's and sign mister linky with the link to your post and then go visit the other participants and leave some comment love.
~Spread the word of course…we want lots of Quotes to read 🙂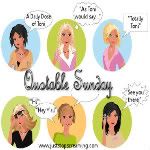 No tags for this post.