Can you believe it's August
already
?! Pass me the remote please… I'd like to pause… or rewind…
It's time for Quotable Sunday…you know the drill – enjoy the quotes on 'Life'. 😉

"It may be that your sole purpose in life is simply to serve as a warning to others."

Anonymous
"Life is like an onion; you peel off one layer at a time and sometimes you weep."

Carl Sandburg
"An autobiography is the story of how a man
thinks
he lived."

Herbert Samuel
"The trouble with the rat race is that even if you win you're still a rat."

Lilly Tomlin
"Were it offered to my choice, I should have no objection to a repetition of the same life from its beginning, only asking the advantages authors have in a second edition to correct some faults in the first."

Benjamin Franklin
"There are good days and there are bad days, and this is one of them."

Lawrence Welk
"When we remember we are all mad, the mysteries disappear and life stands explained."

Mark Twain
"Let us live so that when we come to die even the undertaker will be sorry."

Mark Twain
"After one look at this planet any visitor from outer space would say "I WANT TO SEE THE MANAGER.""

Willliam S. Burroughs
"All the world's a stage and most of us are desperately unrehearsed."

Sean O'Casey
"Life is like eating artichokes, you have got to go through so much to get so little."

Thomas Aloysius Dorgan
"Life's more amusing than we thought."

Andrew Lang
Quotable Sunday
is brought to you by
Toni,
from
A Daily Dose of Toni
– why don't you join us? Here are the basic and easy-to-follow rules…come on and join in, it's fun! 😉
The rules (for newbies)
~Go to your blog and post one or more of your favorite quotes.
~Go to Toni's and sign mister linky with the link to your post and then go visit the other participants and leave some comment love.
~Spread the word of course…we want lots of Quotes to read 🙂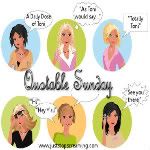 No tags for this post.