Ahhh, Summertime! Most often when I hear the word 'Summertime', it makes me think of this song by Kenny Chesney:
This summer our plans include continuing to work like maniacs out in the yard and do various things to the house – like painting the Summer House and Barn to match the outstanding job the painters did
painting our house
summer-before-last, and painting some of the rooms inside that I've been wanting to get done. In addition to that, in just 13 days we head out on our annual road trip to visit our friends in Louisiana for the 4th of July.
Princess Nagger loves road trips – and I have to admit, I was pleasantly surprised at how well she travels. I bought a portable DVD player for her to enjoy watching her shows on, and she watched endless loops of Dora the Explorer as well as some of her favorite cartoons the first time we went down there about 4 years ago. All the subsequent trips, however, she has refused to even have the DVD turned on – she prefers to watch the world go by as we drive. As long as she's happy, I'm happy.
We usually don't have our time planned out for while we're there, we adopt the 'vacation mentality' that we're on vacation, it's the perfect time to kick back and relax. Besides, the friends we'll be staying with don't have any sort of internet connection, so while I will be going through some major withdrawals, I'm sure we'll be kept plenty busy with the Princess Nagger and their three kids. Not to mention staying up to all hours drinking Rum'n'Coke and getting rowdy playing games.
We might, however, pay a return visit to the Alligator Farm like we did last year, because the kids seemed to really enjoy the time there.

Of course we'll follow the rules as noted here:

We do plan to head into New Orleans a couple of times while we're there – we were there the December before Hurricane Katrina and didn't make it down there on our subsequent trips. It would be nice to have a more recent photo op:

That was December 2004 – our first trip down, when PN had just turned 2. We went down for Christmas that year, and it was the first year they actually got a dusting of snow on Christmas Day…of course they blamed us for bringing it with us from PA! 😉
We're also debating on going to the Aquarium (which is PN's first choice), the Zoo, or the new Insect Museum…

…where you have the option of eating a chocolate covered cricket at the end of the tour if you so desire…Um….ewwwwww! Don't think that's going to be in my future thankyouverymuch.
There will, of course, be some of this:

And it's guaranteed there will be hours of this going on:

And hopefully there won't be a repeat of this:
Our friends own about 4 acres of beautiful property and have been working hard clearing out a section for the awesome house they'll be building – after 3 years of hard work, they're thisclose to starting the building. They already have a spot clear and level, with the foundation pad put in so they can get started. If they're all set up for it this year, we might be spending a bit of time helping them with the framing of it. Each year we go down there things look a bit different – they have built two shops thus far, one they've converted into a guest house which is where we'll be staying in supreme comfort, the other is the cabinet shop for our friend's business that has taken off like crazy since they moved down there in 2004.
Of course it takes a week or so to recover once we drive the 18 hours home, but since we'll be gone for 13 days, it will be nice to come home and relax in our own abode. We're taking the dogs with us – Elvis has made the trip twice, this will be the first road trip for Travis, so hopefully he'll travel like a champ.
Later in the summer I have Princess Nagger signed up for one week of Summer Camp – where she'll get to swim every day for a week and have some fun at some of the local tourist spots as part of the 'adventure' the Community Center has planned. It will be great fun for her and she'll be able to have a week of playing with other kids her own age so she won't be lamenting the fact that she's an only child and there aren't any kids her age in our immediate vicinity. I'm guessing if we don't get a pool by then, she'll be nagging endlessly after getting to enjoy a pool for the whole week. That way she enjoy more days like this:

So that's what's happening in our neck of the woods this summer – how about you? Any fun or special plans or trips you are looking forward to this summer? Or are you simply going to enjoy the summer months as they come?
This special Summertime Edition was brought to you by the Spin Cycle…Want to read some excellent spins? Jen over at Sprite's Keeper is the keeper of the spins… hope on over there to read some greatness!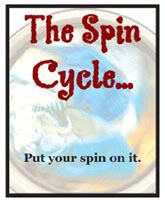 No tags for this post.